Imperiale's new dress is ... Gold!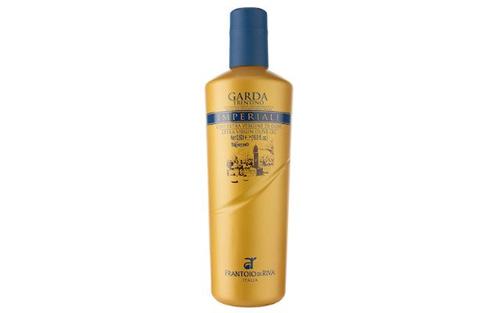 New packaging for our Extravergine Garda Trentino DOP Imperiale
| | |
| --- | --- |
| news & events date | 26/09/2018 |
As of today, our Garda Trentino DOP Imperiale extra virgin olive oil is sold in a new bottle, the culmination of the evolution that began with our Uliva and continued with our 46 Parallelo. The new bottle shape, branded Agraria, was created exclusively for our precious extra virgin olive oils to emphasize the content and its value.
Imperiale Garda Trentino PDO is a blend obtained by pressing three types of olives: Casaliva, Frantoio and Leccino. An extra virgin olive oil whose graphic design has always wanted to recall the history of Alto Garda Trentino and its links with the Austrian imperial court, which ruled this country until a hundred years ago.
These strong territorial elements are also highlighted on the new bottle, which is entirely screen-printed in satin goldwith graphic and textual details. For this special technique, we have relied on a specialist who, through an innovative process, does not use varnishes or other chemical components.
The Garda Trentino Protected Designation of Origin is also reinforced by the "Trentino" regional brand, which is another sign of the link between this product and its territory.
The new Imperiale bottle, with its elegant satin finish, is the ideal object for a noble and welcome gift idea, available in 250 and 500 ml formats (the 750 ml format initially retains the classic bottle).
---