5 Gocce di Bibenda for our 46° Parallelo Monovariety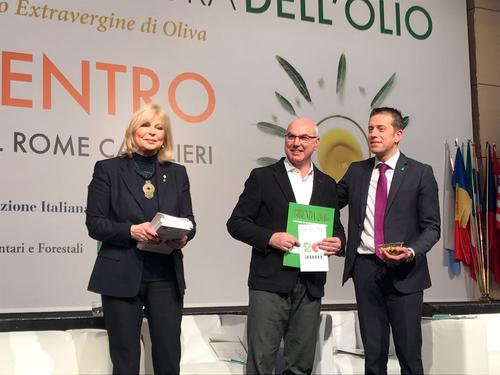 Our extra virgin olive oils have been awarded in Rome .... and not only there!
| | |
| --- | --- |
| news & events date | 26/03/2018 |
A time of satisfaction for "Frantoio di Riva", whose oils are once again confirmed at the peaks of world production.
The oil "46° Parallelo Monovariety" was recently awarded the prestigious "5 Gocce di Bibenda 2018". The Guide of the Italian Sommelier Foundation offers sufficient content for extra virgin olive oils, thanks to the particularity and uniqueness of this product. The official award ceremony took place on March 23 in Rome during the occasion of the XI. Oil Culture Forum (photo).
The extra virgin olive oil of Agraria Riva del Garda was not only successful at Bibenda, but also in other competitions, primarily at "Monocultivar Olive Oil Expo", a competition reserved exclusively for the varietal extra virgin olive oils, where our "46° Parallelo Monovariety "(Cultivar Casaliva), was awarded Gold 2018.
Even the last message arrived makes us proud: our "ULIVA - extra virgin olive Garda Trentino DOP", was awarded in the european competition "Il Magnifico", with Extra quality olive oil.
---